Central Christian Church (Disciples of Christ)

Our logo represents how we are intentionally moving forward by carrying out our mission
to be the heart, hands and feet of Jesus through our lofty goals and our logo represents these!


Energetic - Vibrant - On the move - Youthful - Empowering - Dynamic - Missional - Inclusive - Forward - Emerging - Learning - Challenging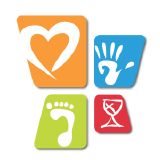 What's this new logo all about? Hearts, Hands, Feet and Chalice?
Click here
to find out!